The Importance of Not Admitting Fault Following a Truck Accident
When you've been in a truck accident, you may feel the need to say sorry or offer your apologies even if the accident wasn't your fault. Human error contributes to more than 90% of all vehicular accidents. Even if you believe that your actions caused the accident, it's important not to admit that you're at fault before you've even filed a personal injury claim.
You Could Be Traumatized Emotionally
One reason that you should avoid admitting you're at fault for the accident immediately after it occurs is that you could be traumatized emotionally. As such, you might not be in the right frame of mind to remember what happened. If someone else was at fault but was injured in the accident, you may feel the need to say you're sorry even when you weren't at fault. However, this could be construed as you admitting fault, which is why it's highly recommended that you focus only on the facts of the accident as you remember them. Determining fault is up to your lawyers and the judge who tries the case.
When law enforcement takes your statement and the statements of any witnesses to the accident, this information will be used to identify who was at fault for the accident. While police officers are asking questions, the important thing is to keep answers simple to avoid giving opinions that might not match witness statements.
It's important to understand that you don't have all of the facts pertaining to how the accident occurred. It's possible that other factors you weren't aware of contributed to the accident. For instance, the other driver could have been intoxicated or may not have yielded when they were supposed to. Our lawyer can help you find out why your accident occurred and what this means for your case.
Admitting Fault Could Worsen Your Claim
When you admit fault at the scene of the accident you were involved in, your statement would likely be used against you if you attempt to seek compensation or file a lawsuit against the other driver. Keep in mind that New Jersey is considered to be a contributory negligence state, which means that the amount of compensation you receive depends on how much fault is assigned to each driver.
If you are deemed to be at fault for 20% of the accident, your total compensation would be around 20% less than it would be if the other driver was the entire reason the accident occurred. You can receive some compensation as long as your fault percentage doesn't rise above 50%. It's possible that admitting you were at fault for the accident could cause your fault percentage to increase from 30% to 55%, which would leave you without recourse for compensation.
It's Difficult to Change Your Statement Later On
Once a statement of yours has been documented by police officers, it's very difficult to change your statement without the court believing that you are only doing so to receive higher compensation. It's important to understand that insurance companies and police reports depend on the statement you give to make sure that any claims proceed fairly.
If you attempt to change your statement at a later date, your credibility will likely be hurt. When you hire our team to represent your case, we'll take care of all aspects of communication between you and other parties, which will lessen the possibility that a statement could be misconstrued.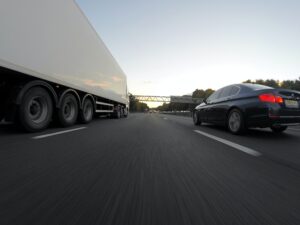 Admitting Fault Is Not Legally Required
In the immediate aftermath of a truck accident, it's possible that the other driver will attempt to blame you for the accident even if you weren't at fault. In these situations, many drivers feel compelled to accept blame because of the stress and emotional whiplash that an accident can cause. However, you aren't legally required to admit that you were at fault for an accident, which is why you may want to avoid doing so.
It's possible to avoid admitting fault by not stating personal opinions, sticking to the facts that don't directly incriminate you, avoiding talking to the other driver's insurance company, allowing the attorney you hire to speak on your behalf while the case is ongoing, and not embellishing the information you give to police officers.
Even though you should avoid admitting fault for any accident you've been involved in, this doesn't mean that you shouldn't file a collision report with your insurance provider or contact the police after the accident has taken place. If a car or truck accident exceeds $1,000 in damages, contacting the police is legally required because of the need to file a police report and contact insurance providers.
How Our New Jersey Trucking Accident Attorney Can Help Build Your Case
When you get in touch with our trucking accident attorney, our team will provide you with comprehensive representation to account for all of your legal needs. As mentioned previously, we'll take care of all communication between yourself and other parties. When you hire our legal team to represent your trucking accident or personal injury case, our legal representation will cover every stage of an insurance claim or lawsuit.
After the initial consultation has occurred and you've retained our services, the first step we'll take is to investigate the accident, which will allow us to gain a better understanding of who was at fault for your accident and how we will represent your case. If we find that the other driver was almost entirely at fault for the accident, our lawyers can calculate how much compensation you should seek when filing a personal injury lawsuit.
During the course of an accident investigation, we may uncover facts that you were initially unaware of. For instance, it's possible that the other driver was driving recklessly or was texting at the time of the accident. They might have even been under the influence of alcohol or drugs.
Our investigation also involves a thorough review of all statements and reports that were made immediately following the accident. These documents include medical records, police reports, and any eyewitness statements. The information within these documents could offer more insight into what may have brought about the accident. Once we've reviewed the statements and reports, our lawyers will be able to use the evidence they've gathered to build a strong case.
Once you've obtained legal representation, you likely won't need to speak directly with anyone else about your case. Our lawyers will be able to speak with the at-fault party, insurance providers, law enforcement officers, and eyewitnesses on your behalf, which allows you to avoid making any statements that could potentially be used against you to weaken your case.
In the event that your initial insurance claim comes back with a denial or a surprisingly low settlement offer, we can help you explore the other legal options at your disposal. In this situation, it's possible that your case would be strong enough to file a lawsuit against the insurance provider or other driver.
Having a reputable legal team by your side means that you'll never be in a situation where you don't know what your next step should be. We aim to help all of our clients fight to receive fair compensation for their injuries or any property damage that may have occurred at the time of the accident. Our lawyers will guide you through the entire legal process.
If you have been injured in a truck accident and believe that you deserve compensation, call our New Jersey trucking accident attorney immediately at (732) 394-1549 to schedule your first consultation.