Everything You Should Know About Accidents Involving Garbage Trucks
Garbage truck accidents are relatively common and oftentimes bring about ample amounts of damage to everyone involved in the accident. In 2019, around 127,000 injury accidents took place involving larger trucks, many of which were garbage trucks. Since garbage trucks are often driven by government employees, there may be some hurdles when filing an insurance claim or lawsuit.
Are Garbage Trucks Driven by Public or Private Entities?
Garbage truck accidents are relatively common and can cause serious injuries depending on the severity of the accident. All garbage trucks are large and typically weigh anywhere from 33,000 to 80,000 pounds. Because of this weight, even a small fender bender could lead to severe whiplash and other issues that cause injury.
Among the most important aspects of any garbage truck accident is identifying who may be responsible for the accident. If the garbage truck driver is responsible, the next question involves whether the garbage truck was being driven by a public or private entity. The majority of counties and cities in the U.S. offer waste pickup services to the people who reside in the area. In this situation, pickup services would essentially be handled by a city or county division.
It's also possible for waste removal services to be contracted out to various private businesses. The difference between these two scenarios can determine what legal options are available after the accident. If the waste removal services are administered by the government, certain states provide injured individuals with the ability to make a case against the government.
However, the total amount of damages that could be paid by the government or insurance provider may be capped or limited in some way. Some states may place a limit on the case types that a potential victim could file against the government. There are also some states that put a cap on compensation in lawsuits against the government.
Since filing a lawsuit against the government or one of its employees may be limited in some regard, many people who are injured in garbage truck accidents focus on identifying who was responsible for the accident and what entity they worked for.
Determining Negligence
Regardless of the vehicles that are involved in an accident, the insurance claims and lawsuits are based on negligence. The only way for the injured party to obtain compensation is to prove that the truck driver was at fault for the accident or that some other entity was negligent. Negligence can take many forms in this type of case. For instance, failure to obey the rules of the road is oftentimes considered to be negligence.
However, the truck driver may not be at fault for a garbage truck accident even if the initial evidence indicates that they are. There's always a possibility that a part in the vehicle malfunctioned because of poor build quality, which may result in the part manufacturer being responsible for the accident and any damage that occurred. An experienced attorney may be able to find pieces of evidence that identify which entity was directly responsible for the accident.
Even though garbage truck drivers are tasked with following some rules of the road, the very nature of their job necessitates pulling up on the side of the road or near a driveway to collect trash. It's legal for a garbage truck driver to drive along the incorrect side of the street, drive the other way down a one-way road, or stop their vehicle in a bike lane. Proving negligence may mean taking these permitted actions into account.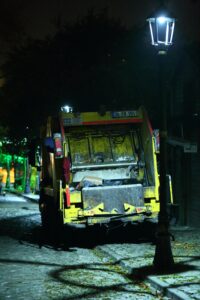 Potential Legal Remedies Following a Garbage Truck Accident
There are two common legal claims that tend to be made following a garbage truck accident, which extend to insurance claims and lawsuits. The severity of the injuries as well as the nature of the garbage truck accident can dictate which legal option is right for a specific case.
Types of Compensation
No matter which legal remedy you seek after being injured in a garbage truck accident, insurance claims and injury lawsuits can result in compensation being paid. The types of compensation that may be awarded can include compensatory damages and punitive damages. However, punitive damages are only awarded as a means of punishing the responsible party, which means that these damages are used when the case is particularly severe and the injuries were purposely caused.
Compensatory damages can be separated into special damages and general damages. Special damages are economic ones, which means that they relate to costs that need to be paid or income that was lost following the accident and any injuries that occurred. On the other hand, general damages aren't quantifiable and can be difficult to properly calculate. Different insurance providers and courts use different methods for calculating non-economic damages.
Some examples of special damages include all past and future medical expenses, costs pertaining to property damage, loss of any irreplaceable items, and past and future lost wages. All of these damages are easy to calculate with bills and other financial documents. The many types of medical expenses that may be compensated from an insurance claim or lawsuit include:
Medical treatments
Hospital stays
Medical transportation costs
Prescription medication costs
Doctor's appointments
Physical therapy costs
The general damages that may be awarded in this type of case include pain and suffering, loss of consortium, inconvenience, physical impairment, and reduced quality of life. It's possible for one court to place more of a focus on general damages when compared to another court.
Seek Representation from Our New Jersey Trucking Accident Lawyer
If you have been injured as a result of the garbage truck accident you were involved in, you may be able to file an insurance claim or personal injury lawsuit. Many people who are injured in a car accident will file an insurance claim with the other driver's insurance provider. It's possible for these claims to be made online or over the phone depending on the insurance provider.
The process involved with filing an insurance claim tends to be relatively simple and straightforward. Once the insurance company receives details of the case, they usually seek a copy of the police report that was made at the scene of the accident. The information from this report is oftentimes used to support the decision the company makes when deciding if compensation should be paid.
The outcome of an insurance claim largely depends on its validity. If witness statements and the police report indicate that the other driver was responsible for causing the accident, some compensation may be awarded. Additional legal options are sought when the insurance claim is denied or the amount of compensation offered by the insurance provider is too low.
Once a personal injury lawsuit is filed in court, it's possible for a trial to occur, which can be time-consuming. Before the case goes to trial, a settlement may be reached. However, each case is different and can have unique outcomes. If you are interested in learning about the legal rights that you have and what they entail, our New Jersey trucking accident lawyer may be able to answer your questions and assist you in navigating this situation.
If you have recently been injured in a garbage truck accident and want to request representation for your case, call our New Jersey trucking accident lawyers today at (732) 394-1549 to set up your first consultation.