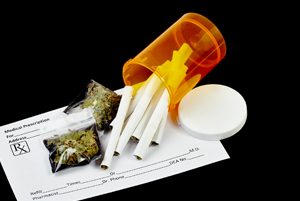 In a ruling issued by an administrative law judge earlier this year, the tribunal held that workers' compensation benefits must cover the costs of any medical marijuana legally prescribed for and purchased by a New Jersey worker injured on the job. New Jersey legalized medical marijuana in 2010, but many employers and workers' compensation insurance companies have refused to reimburse employers for or pay the costs of legally obtained medical marijuana.
In the case where the ruling was handed down, the injured party had worked at a lumber company and suffered a work-related injury to his hand. His doctor prescribed medical marijuana to treat chronic pain that he had in the hand. He initially purchased the drug at a state-approved dispensary and used it to treat his condition, but switched to prescription opioids, including Percocet, because his employer refused to reimburse the costs of marijuana already purchased or pay for any further prescriptions. He sought relief through the courts, contending that the opioids did not work as well and had undesirable side effects. He asked the workers' compensation judge to require that his employer reimburse him for drugs already purchased and pay the costs of any medical marijuana prescribed in the future.
The court listened to arguments from both sides and ruled that, because medical marijuana is "within the boundaries of the law" in New Jersey, workers' compensation benefits must cover the costs of any legal prescription for the drug. The court also noted that treatment with medical marijuana was not as debilitating as opioids and had been demonstrated to be effective for the former lumber company worker. The court then ruled that workers' compensation must reimburse the plaintiff for any medical marijuana he had previously purchased and must pay for any future prescriptions, provided they are obtained from a state-approved and licensed dispensary.
Contact Us
If you or a loved one has been injured on the job, we can help protect your rights. For a free initial consultation with a personal injury attorney, contact us by e-mail or call our offices, in New Brunswick at 732-247-3600 or in Somerville at 908-448-2560.