How to File a Personal Injury Lawsuit and Obtain Workers' Comp
When you sustain an injury while on the job, you can seek workers' comp benefits to cover some of your lost wages and medical bills. In 2018, 2.8 of every 100 workers became ill or were injured while on the job. If you are injured or become ill while working, it's possible to seek compensation from workers' comp benefits as well as a personal injury lawsuit.
What Is Workers' Compensation?
Workers' comp is a form of insurance that's designed to provide protection to employees who are injured or become ill at the workplace. The benefits that workers can obtain if they're injured include medical and wage benefits. This insurance is regulated by the states, which means that insurance requirements can differ with each state. In New Jersey, every employer is required to provide workers' compensation to employees.
While employees benefit from workers' compensation by having their medical bills and lost wages covered, it's important to understand that employers benefit as well. In exchange for the insurance you receive, your employer is usually unable to be sued for the injury you sustained at the workplace. Because of this requirement, it can be nearly impossible to file a lawsuit if you feel like the compensation provided through workers' comp is insufficient. There are, however, a few exceptions to this rule.
Can You Collect Workers' Comp and File a Lawsuit at the Same Time?
In the event that you are injured while performing your standard job duties, it's possible to file a personal injury lawsuit if the injury was caused by a third party as opposed to your employer. The most common reasons for being injured by a third party include being in a car accident, using defective machinery, or slipping and falling.
The main downside to workers' comp is that the benefits you receive will likely only cover a portion of medical expenses and lost wages. When you file a personal injury lawsuit with the help of a New Jersey personal injury lawyer like ours, you can recover enough compensation to cover all of the expenses and bills related to your injury. When you get in touch with one of our lawyers, we can help you determine if a lawsuit could be filed for your injuries.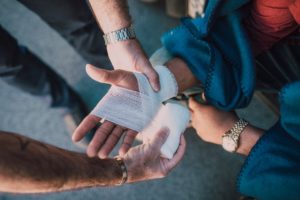 Filing a Lawsuit Against a Third-Party
Even though your employer benefits from providing you with workers' comp insurance, you'll also benefit from this insurance because of its "no-fault" status. Since workers' comp is a form of no-fault insurance, your claim should be approved without you needing to prove that your employer caused the injury.
However, the no-fault aspect of workers' comp means that your benefits will only provide partial coverage for your lost wages and injuries, which can be frustrating if you suffer a severe injury. When you file a lawsuit against a third party, the lawsuit must prove that your accident was work-related, that you experienced injuries as a result of the accident, that the third party had a duty of care to you, and that the third party was unable to meet this duty.
When You Can File a Lawsuit Against Your Employer
Workers' comp is designed specifically to make sure that any employee who accepts this insurance is unable to file a personal injury lawsuit against their employer. Despite this restriction, there are a few scenarios that allow a lawsuit to be filed, which you should be aware of before seeking legal recourse. It's possible to file a lawsuit against your employer in the event that they display gross negligence against you.
If your employer was aware of a toxic substance at your workplace but didn't provide the appropriate protection from this substance, you could file a lawsuit if you were injured. The same is also true if your employer directly assaults you. In nearly every situation, an assault of this nature results in the no-fault limitation being voided. You might also be able to file a lawsuit if your employer isn't carrying workers' compensation despite being required to do so. Our lawyers can help you identify what your legal options are and assist you in building a strong case.
If you've been injured at your workplace and feel like workers' comp isn't providing you with the amount of benefits you deserve, contact our New Jersey personal injury lawyer today at (732) 247-3600 to better understand which legal options are available to you.