6 Useful Tips for Avoiding Vehicle Accidents
With more drivers than ever on America's roads, vehicle accidents are on the rise. On the bright side, New Jersey traffic fatalities dropped sharply from 2017 to 2018. While it is impossible to know the direct cause of New Jersey's improving fatality rate, the truth is that an aware, safety-minded driver (who remembers the following tips) is less likely to be involved in a car wreck.
1. Limit Distractions
There has been a recent focus on distracted driving and its effect on driver safety. From "infotainment" units to mobile phones, there are more potential distractions in our vehicles today than ever before. To help avoid potential accidents or road hazards, you should always keep your full attention on the road. Set your radio before you leave or at stoplights, and wait until you arrive at your destination before checking your text messages.
2. Be Aware of Your Blind Spots
A frequent cause of sideswipe accidents is due to a failure of drivers to properly check their blind spots. You should always make sure your mirrors are in the correct position before leaving, but you should also avoid depending on them entirely. When changing lanes, it is always safer to turn and look to make sure your blind spots are clear. It also pays to avoid the blind spots of other vehicles, especially large trucks.
3. Perform Regular Maintenance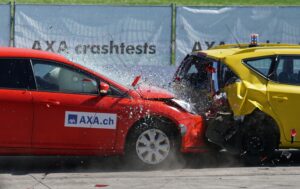 All the good driving habits in the world can't save you from a crash if your vehicle stalls in traffic. By ensuring that your equipment is properly maintained, you can mitigate mechanical failures that could otherwise lead to a crash. This goes for all the major systems of your vehicle, but special attention should be paid to your oil level, brakes, and tires.
4. Scan 12 Seconds Ahead
To stay safe, it is important that you are aware of what's happening on the road in front of you. When traveling at high speeds, you may not have time to react if you only notice a hazard directly in front of your car. That's why it is in your best interest to scan the part of the road you will be traveling on in 10-12 seconds for hazards. That way, you will give yourself plenty of time to react if necessary. It is also helpful to position your vehicle far enough behind other vehicles in your lane so that you can avoid them if they stop suddenly or swerve.
5. Limit Nighttime Driving
Even if you have perfect vision, it is much more difficult to navigate the roads at night as opposed to during the daytime. Furthermore, other drivers who may have eyesight issues will be sharing the road with you. That's why it is safer to limit your nighttime driving as much as possible.
6. Don't Make Assumptions
Always react to other drivers based on what they do, not on what you assume they are going to do. A car in the lane in front of you with their turn signal on may be changing lanes, but the signal could also be on by accident. Stay focused on such matters even when you are entering an intersection with the right of way. It always pays to be aware of oncoming cross-traffic. You will want to be prepared in case a driver just happens to blow right through the stop sign.
Good Driving Habits Can't Eliminate the Risk of a Collision
While these steps can go a long way in keeping you safe behind the wheel, the other variable conditions on New Jersey highways mean the threat of a car accident is never eliminated. In many cases, there is no amount of awareness that can avoid a collision with a negligent driver. When that happens, you may benefit from contacting a New Jersey car accident lawyer. To discuss your case with a car accident lawyer who has a proven track record of recovering for clients, contact RAM Law today. You can reach our New Brunswick office at (732) 247-3600 or our Somerville office at (908) 448-2560.