Stay Alert for Distracted Motorists
Accidents involving distracted drivers account for nearly 3,000 deaths and more than 400,000 injuries per year. While you can't control the actions of others, there are steps that you can take to reduce your risk of being a crash victim.
Remain Focused on Road Conditions
It may be difficult to stay on the lookout for distracted drivers if you are distracted yourself. Therefore, it's important to refrain from using your cellphone, changing radio stations, or eating while your car is in motion. It may also be a good idea to refrain from talking to passengers while you are traveling on a busy road or highway.
Staying focused on road conditions allows you to scan for potential hazards and make a plan to diffuse the situation. For example, you may spot a vehicle that is braking erratically or is swerving in and out of multiple lanes. If you do see signs of erratic driving, there are several actions that you can take to put distance between yourself and a potentially dangerous vehicle.
One possible strategy is to increase your following distance so that you have more time to take evasive action. If you are traveling on a highway with multiple lanes, you may want to consider moving over and attempting to pass a car operated by a potentially distracted motorist. It may also be wise to exit the highway or pull over to the side of the road until it is safe to keep going.
There Are Multiple Types of Distractions
A person who is distracted by a phone or by a passenger will likely have a hard time processing information. This is because the human brain is only capable of focusing on one task at a time. Therefore, a driver who is talking on a cellphone may not merge, stop at a red light, or take other actions despite seeing a sign or other device instructing that motorist to do so.
If you see a vehicle not taking action in a timely manner, you should assume that the operator is not paying attention to road conditions. There is a high probability that the driver may try to merge, slow down or take other actions with little warning in an effort to stay on the road.
In addition to mental distractions, a motorist may also experience visual distractions while traveling. A visual distraction occurs when a driver looks away from the road to answer a phone call, grab a drink or change a radio station. In the seconds it takes to glance at a cellphone, radio, or another object, a car can travel up to 100 yards.
Therefore, it's possible that a car could collide with a person, animal, or object that may not have been in its path prior to looking away from the road. Alternatively, it's possible for a motorist to mistakenly believe that a collision is about to occur. For instance, while looking down, a driver may see a pedestrian on the sidewalk and think that this individual is about to cross the street.
In a panic, the motorist slams on the brakes or tries to swerve around something that isn't there. There is also a chance that a driver's hands will remain on the steering wheel while looking away. This will likely cause the car to drift without the driver noticing that anything is amiss.
Unfortunately, by doing so, the vehicle operated by a distracted driver may collide with your car that was in the adjacent lane. If you're lucky, you will see an individual talking on a phone or looking away from the road prior to the collision. This may give you time to figure out that something is wrong and that you need to take action quickly.
If you are involved in a crash caused by a negligent motorist, one of our personal injury lawyers can review your case and talk more about the types of damages you may be entitled to.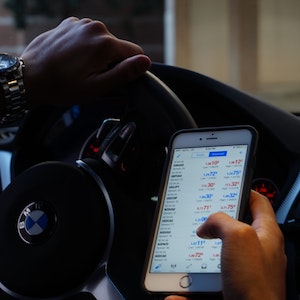 Signs of Distraction By Impairment
A driver who is under the influence of drugs, alcohol, or fatigue will likely be classified as a distracted driver. There are several clues that a person may be too tired to operate a motor vehicle or otherwise incapable of doing so safely.
For example, someone who is impaired or tired may fail to recognize that a traffic light has changed from red to green. Instead of going through an intersection, a vehicle may simply stay where it is despite the fact that it has permission to move.
You may also notice that those who are tired or impaired may be driving at speeds significantly over the posted limit. Tired drivers may simply be trying to get home as quickly as they can while impaired motorists may not have enough control over their bodies or emotions to conform to any limits.
If you suspect that a motorist is under the influence of drugs or alcohol, do not attempt to follow or make contact with that person. Instead, call the police and ask for assistance.
You Have a Duty to Avoid a Crash
It's critical to remember that you have a duty of care toward others even if they don't show any care toward you. Therefore, you can't assume that the other party in your case will be deemed fully responsible for an accident simply because they may have been distracted.
For example, let's assume that you ran into the back of a car that failed to move after a traffic light turned green. The fact that the other car didn't move because it was operated by a drunk driver doesn't absolve you of your own poor behavior. The same might be true if you hit a car that stopped suddenly because you were following too closely.
In such a scenario, the other driver may be liable for taking an unsafe action while looking for a phone or other object. However, you would likely be liable for failing to maintain an adequate following distance.
Don't Assume Anyone Is Paying Attention
Perhaps the best way to avoid an incident with a distracted driver is to assume that you're the only one who is paying attention. This may help you get into the habit of driving at a speed that is safe for road conditions and always maintaining an adequate following distance. Ideally, you'll leave at least 250 feet between yourself and other vehicles as that is roughly how much space you'll need to stop while traveling at highway speeds.
Driving in a defensive manner by default may also prevent unnecessary wear on your vehicle because you're less likely to need to slam on the brakes, speed up suddenly, or perform other maneuvers that can't be detrimental to your car's health. You may also notice that you get better gas mileage when you can drive at a consistent speed on a road or highway.
If you are in need of a personal injury lawyer, don't hesitate to get in touch with us at RAM Law in New Brunswick, New Jersey today. You can do so by calling (732) 247-3600 or by completing and submitting the form on our contact page.