Pedestrian accidents in New Jersey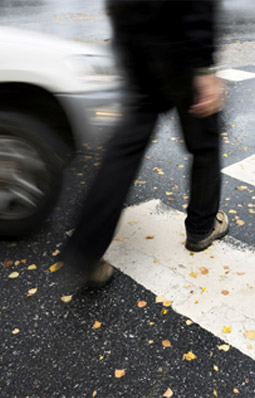 According to the National Highway Transportation Safety Administration (NHTSA), more than 70,000 pedestrians are injured in motor vehicle accidents each year while approximately 5,000 are killed. Pedestrian accidents account for two percent of those injured or killed in traffic accidents annually.
Pedestrian accident injuries in personal injury cases
Injuries sustained as a result of pedestrian accidents can often be severe. Common injuries include herniated discs, traumatic brain injuries, bone fractures dental injuries. We understand the importance, after going through a trauma, to have your medical bills paid and covered and ensure that you do not suffer financially through any lost wages. If you are uninsured at the time of the accident, the New Jersey Guaranty Association maintains strict notice requirements to pay for medical treatment.
Drivers of motor vehicles owe everyone else the highest duty of care while operating their car. It is the obligation of the automobile operator to be mindful of the whereabouts of pedestrians. Specific legal issues arise in these types of cases; specifically, whether or not the pedestrian had the right of way. Similar to car accidents involving bicycles or motorcyclists, common ways drivers can cause pedestrian accidents include:
Ignoring a marked crosswalk.
Failing to check for pedestrians when making a turn.
Distracted by a hand-held device or a passenger.
Driving under the influence of alcohol or drugs.
For a free initial consultation, please call us today 732-247-3600 in New Brunswick or 908-448-2560 in Somerville. Your first consultation is without cost or obligation.