Experienced New Jersey Motorcycle Accident Attorneys
Motorcycle Crashes | Single Bike Accidents | Car-Bike Collisions | Defective Motorcycle Components | Roadway Defects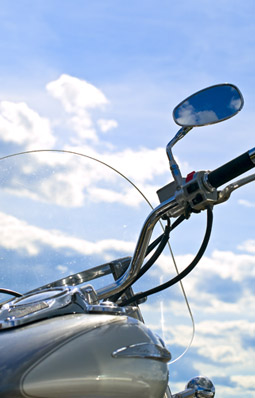 There's little that compares with the feeling you get on a motorcycle—the wind in your face, just you and the elements and your bike. But it can also be fraught with peril. Studies show that many motorists still fail to pay attention to bikers on the road. A pothole or other roadway defect can put you on the ground in an instant. A poorly designed road can make it difficult to maintain control of your bike. If you or someone you love has been injured in a motorcycle accident, the motorcycle accident attorneys at RAM Law can help.
At RAM Law, we take a results-oriented approach to personal injury. We know the impact an accident can have on every aspect of your life. We are trial attorneys, and we'll prepare your case fully expecting to go to trial. This strategy has helped us obtain millions of dollars in settlements and verdicts for our clients.
Each of our founding members–Ed Rebenack, Craig Aronow and Jay Mascolo— has been certified by the New Jersey Supreme Court as a civil trial attorney, putting them in a category with less than 2% of all lawyers in New Jersey. Each also brings more than 15 years of experience to every case we take.
Contact our office by e-mail or call us at 732-247-3600 or in Somerville at 908-448-2560 to arrange a free initial consultation.
Our Representation in Motorcycle Accident Injury Claims
Our motorcycle accident attorneys will take care of all matters related to your case, starting with a comprehensive investigation of the details of the accident. We'll travel to the scene of the crash, if necessary, and we'll work closely with accident reconstruction specialists, as well as other expert witnesses, to put together the most persuasive arguments for your full financial recovery. We will prepare and file all necessary documents, and will be your representative in all hearings and proceedings.
We handle all types of personal injury claims arising out of a motorcycle wreck, from sprains, strains and bruises to serious and catastrophic loss. We also handle wrongful death claims. We'll seek damages for all your losses, including wages and income, medical expenses, pain and suffering, and loss of companionship or consortium.
We take all types of motorcycle accident injury claims, including cases involving:
Collisions with other motor vehicles
Accidents caused by defects in a motorcycle or its parts
Crashes resulting from roadway defects, such as potholes, loose gravel, water or ice on the roadway, or negligent road design
Contact Our Office
We offer a free initial consultation to all personal injury clients. To set up a private meeting, contact us online or call our offices, in New Brunswick at 732-247-3600 or in Somerville at 908-448-2560.