Proven New Jersey Construction Accident Lawyers
Protecting Construction Workers Hurt by Falling Objects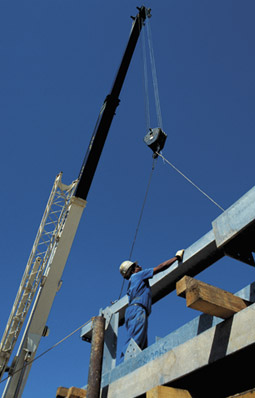 On a high-rise construction site, it's imperative that owners and general contractors take reasonable steps to prevent personal injury to workers from falling objects, such as tools, building materials or even refuse. Unfortunately, short cuts are often taken, resulting in serious personal injury when workers are the ground or at a lower level are struck by a falling object. If you or someone you love has been injured on a construction site by any type of falling object, the construction accident lawyers at RAM Law can help.
At RAM Law, we aggressively protect the rights of injured people in New Jersey, including construction workers hurt by falling objects. We've built our successful practice on a commitment to thorough preparation and strong relationships with our clients. We'll take the time to get to really know you, to find out exactly what happened and to learn what you need to move forward with your life.
We are first and foremost trial attorneys. Each of our founding partners has been certified by the New Jersey Supreme Court as a civil trial attorney, an award given to less than 2% of all lawyers state-wide. Our partners have been rated as "Superb" by Avvo, and have been named New Jersey Superlawyers numerous times. In our years in practice, we have obtained millions of dollars in settlements and verdicts for our clients.
To arrange a free initial consultation, contact our office online or call us at 732-247-3600 or in Somerville at 908-448-2560.
Results-Oriented Representation — Falling Objects on Construction Sites
Our goal, from the inception of representation, is to maximize your recovery. We'll carefully gather, evaluate and preserve all relevant evidence, and will timely prepare and file all documents required by the court. Our construction accident lawyers will also be at your side throughout the process, from depositions to settlement conferences to trial, if necessary.
We tenaciously advocate for construction workers who have been injured by any type of falling object, including:
Items that have fallen because owners or general contractors failed to erect appropriate barriers
Refuse or waste negligently left on higher levels
Tools, machinery or construction materials not properly secured at higher levels
We also handle cases where owners or general contractors fail to properly monitor a job site, causing workers to unknowingly enter zones where construction materials may fall from above.
Contact RAM Law
At our office, every prospective personal injury client receives a free initial case evaluation. Contact us by e-mail or call our offices, in New Brunswick at 732-247-3600 or in Somerville at 908-448-2560, to set up a meeting.